FunX has done well: the legacy matrix has been replaced by a brand-new model of Axia. At the same time the playout system (Dalet) has been replaced by OmniPlayer, two major changes in a short period of time. In this article you will read how this process went, what the biggest changes are and how Rob - Manager Technique at FunX - thinks about it.
12 years later…
Our outdated Klotz Digital matrix was in need of replacement after 12 years of loyal service. Several options came along as replacements, but in the end we opted for the Axia AoIP solution,' says Rob. There have been several reasons for Rob and his colleagues to choose this solution.
First of all, we believe that Audio-over-IP is the future for broadcast. It's reliable, scalable and flexible,' Rob continues. 'Two years ago we equipped our network with MikroTik routers and later switched to audio connections based on Livewire+. So it was a logical choice to build on this technique. In addition, the redundancy when designing this matrix system was decisive: the matrix runs on two servers that can seamlessly take over from each other in the event of a failure'.
The flexibility and redundancy at FunX are thus significantly improved. Rob: 'Every part has a backup, something we didn't have in the old situation. And in combination with existing network techniques, the availability of the entire broadcast system has become much greater'.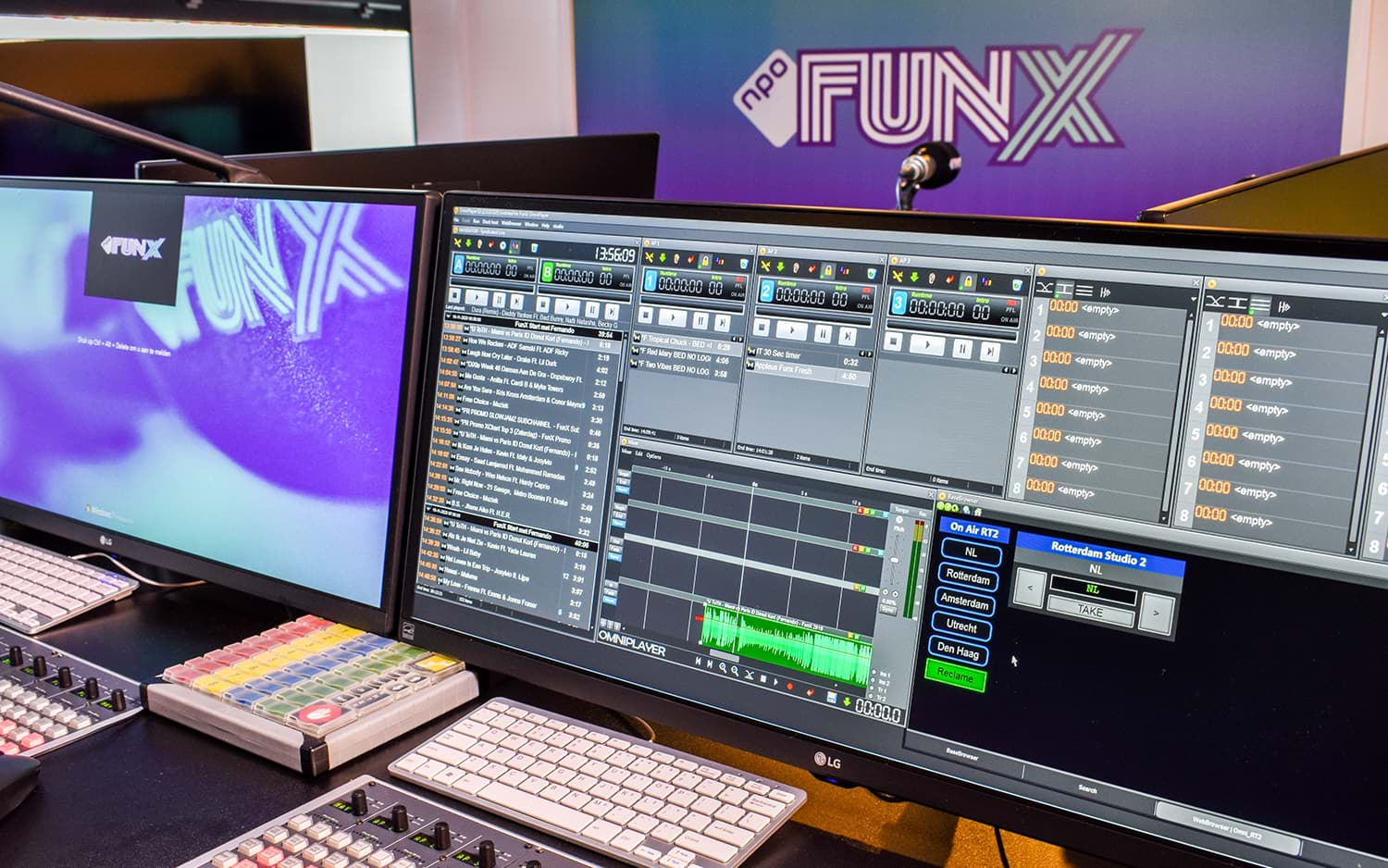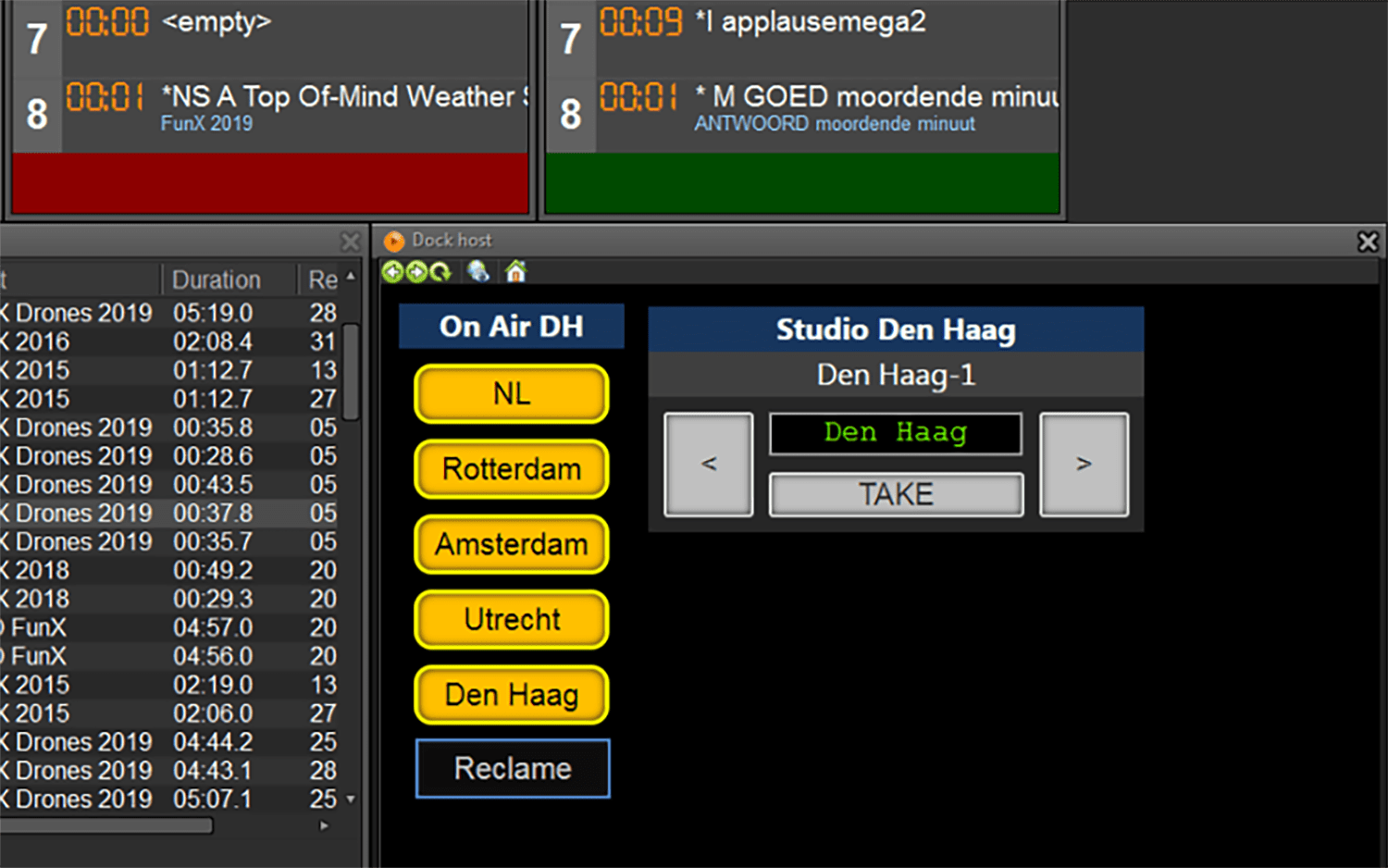 Experiences
'What I consider most special about this innovation is the transition to the newest techniques. It offers a lot more possibilities than the old familiar ones', says Rob. 'The new Axia matrix can work very intelligently thanks to its programmable logic. Many things, such as where the now-playing information can be retrieved from, can now be automated. Modifications and new features are easy to build in, without large investments'.
The experiences of Rob's colleagues are also positive. 'Our DJ's and producers can now keep a better eye on the studio circuits and intervene if necessary. Listening in on their own shows has also become easier, and everyone can now listen to every station in all studios.'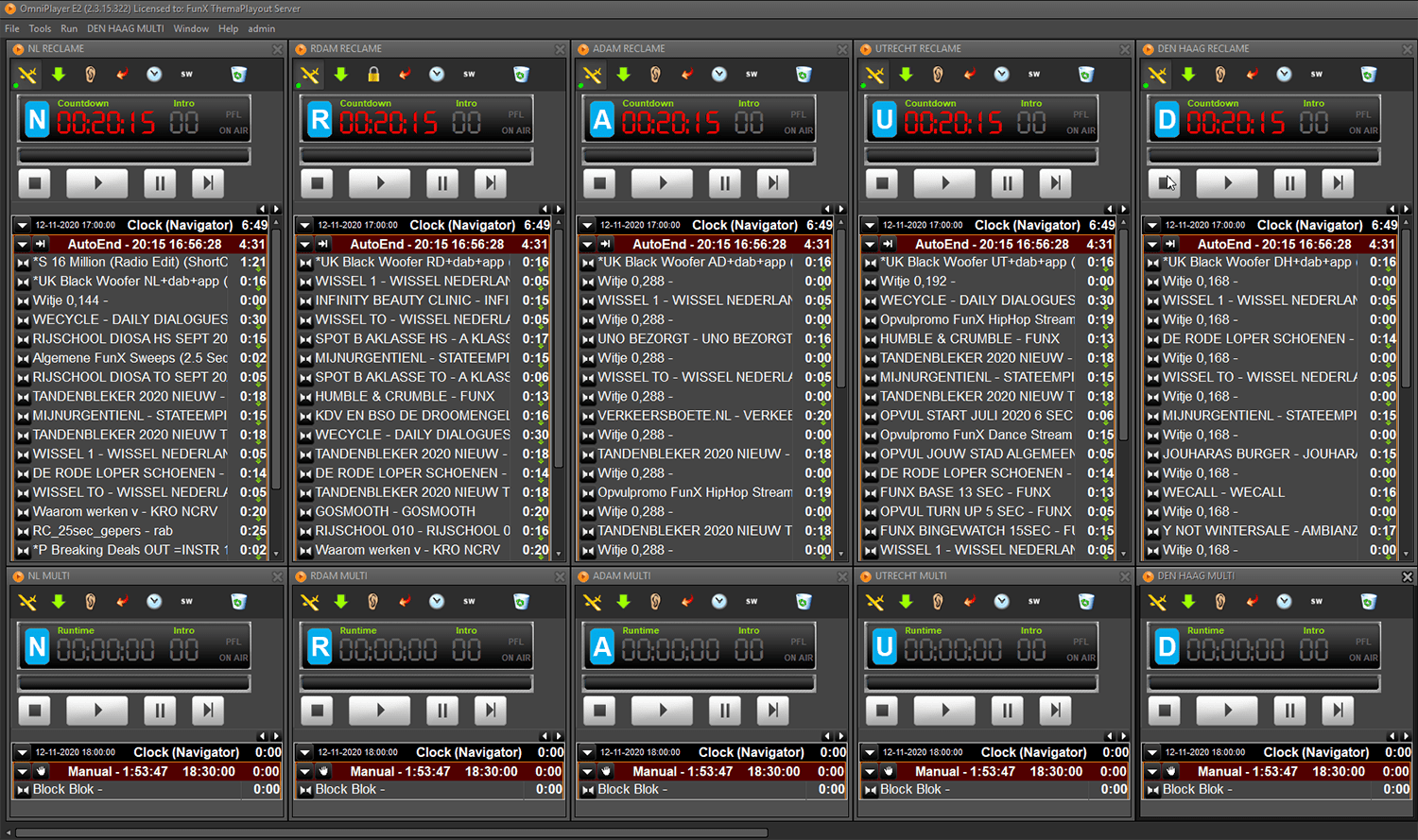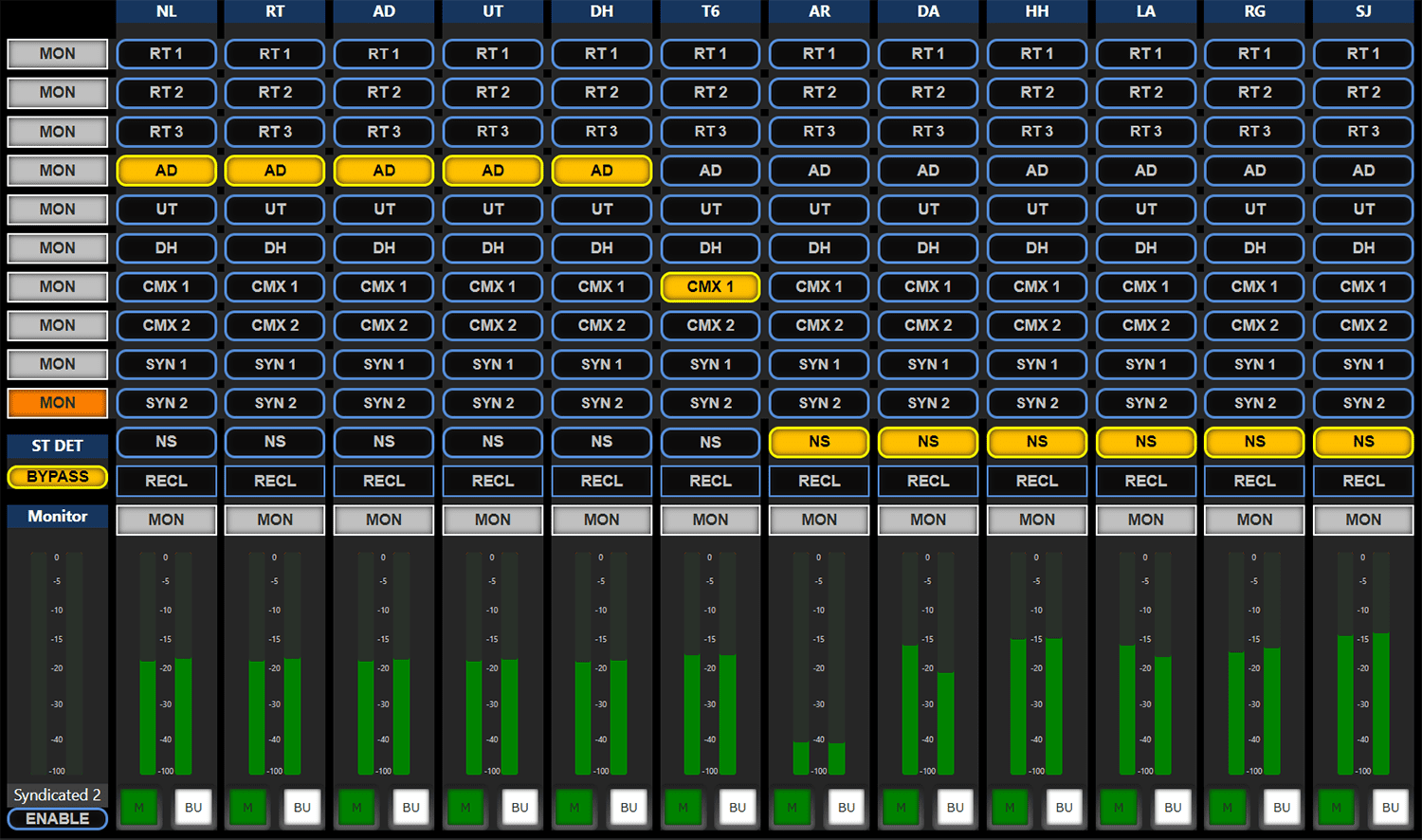 Recommended
The Axia matrix is built entirely to the specific needs of FunX. But that doesn't mean it couldn't work for other stations,' says Rob. 'Each radio station has its own wishes; and this system is as flexible as that.
'Everything stays within FunX's IP network. This means that no expensive audio codecs or sound cards need to be purchased for each audio connection, something that other radio stations still have to deal with. In addition, the logistics around GPIO now also remain within the network, which makes it very flexible. The GPIO flexibility is achieved, among other things, thanks to SmartControl (+ Trigger Upgrade) from Triple Audio.
Streaming Academy
The origin of the step towards Audio-over-IP began for FunX at the Streaming Academy. As a result of this introduction FunX has taken a step further in the technology of the future. 'It is flexible, affordable and future proof. Especially the latter is very important; this technique will still be there in twenty years. It will be available on new computers, but the technology behind it will continue to exist.' Audio-over-IP is affordable because it runs on existing network technology and is also flexible and future-proof because it can run on any computer, including the computers of the future.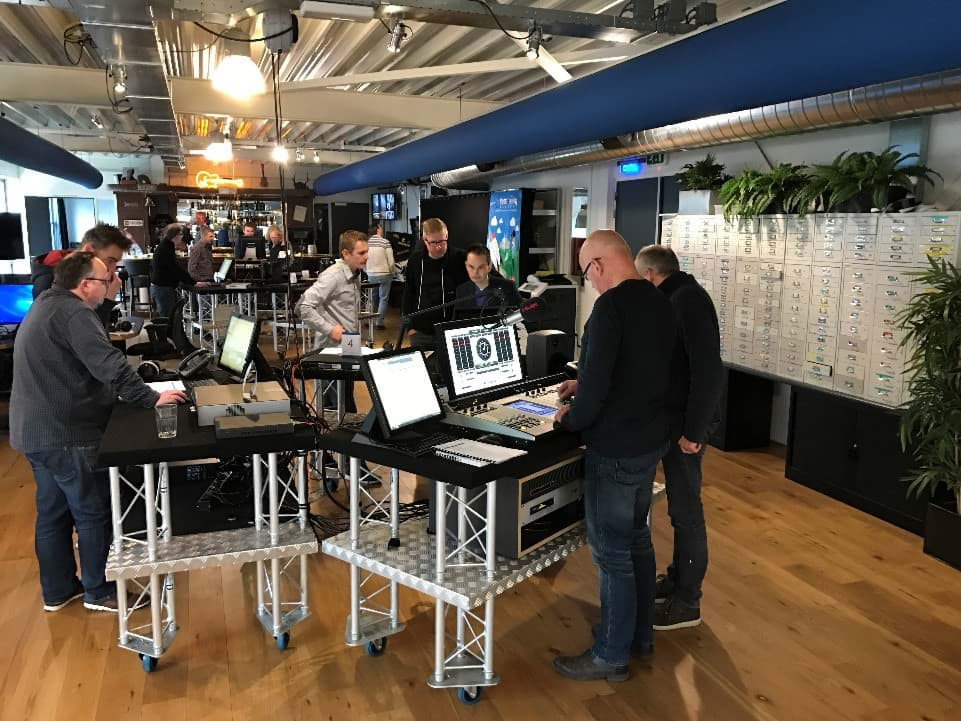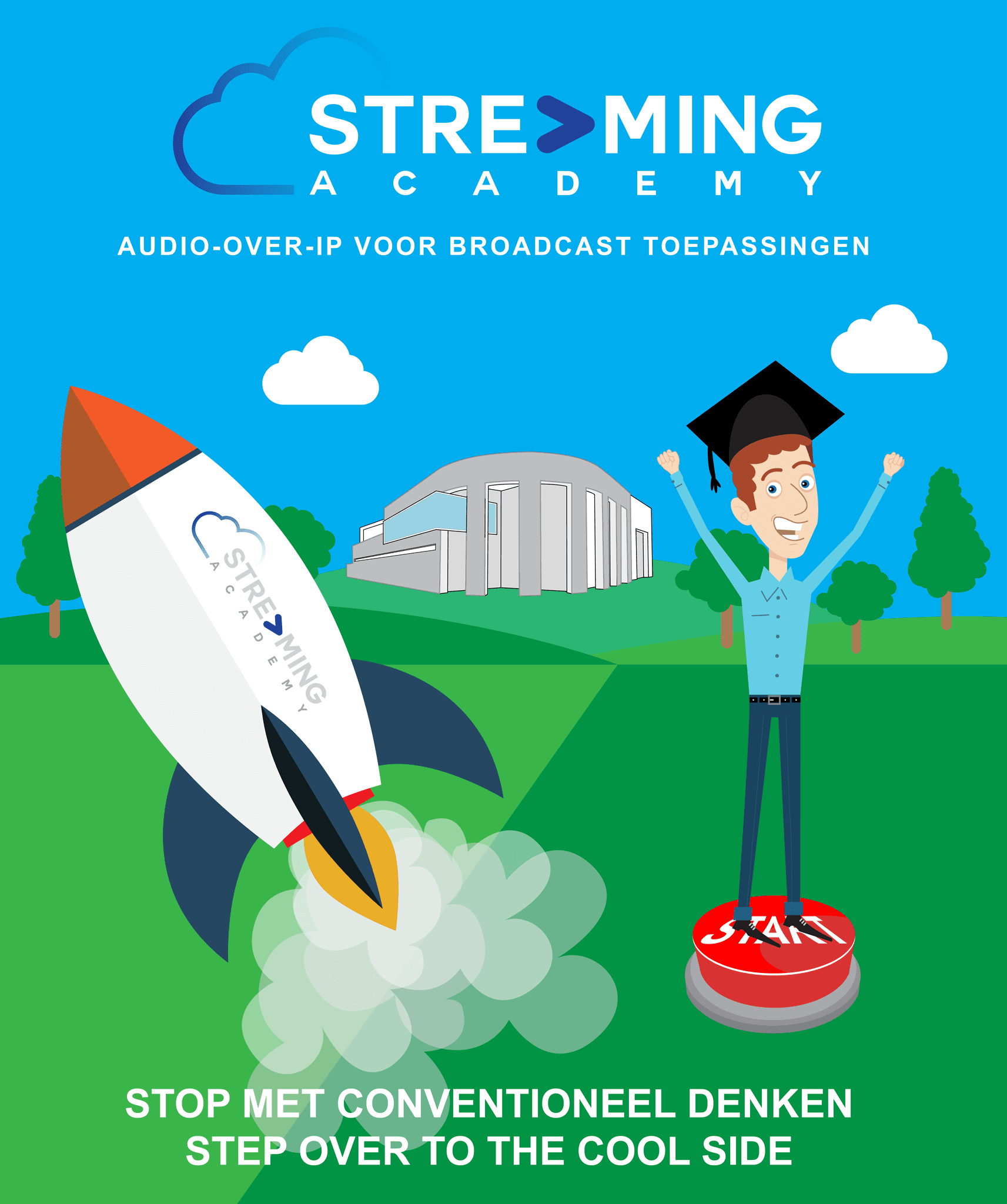 Six months and two renewals
The whole process of matrix renewal took about six months. At the same time, the Dalet playback system was replaced by OmniPlayer, so they were two major replacement projects in one. It was very extensive,' says Rob. Of course, we also used the OmniPlayer control for the new matrix. It was first developed and then mainly a lot of testing. It wasn't all ready-made on the shelf'.
So we worked on these two projects for six months, a fairly long period of time. Rob: 'In itself, building the matrix did not take very long. After completion, we started testing and ran into a number of things. For example, we had to start working with OmniPlayer in a new way. In addition, we had to test the whole thing, which we did to our heart's content. It is of course important that it always works well.' This carefulness proved to be a good choice: on 22 October, the new system went on air and has been running without any problems ever since.
Technique
And now we go a little deeper into the technique, so pay attention 😉.
FunX uses two OmniPlayer systems to play advertising, non-stop playlists, syndicated shows and emergency audio for all twelve channels. FunX broadcasts on FM in Rotterdam, Amsterdam, Utrecht, The Hague and nationwide on DAB+. In addition there are six more theme channels such as FunX Fissa, HipHop and Latin. A twelfth channel is meant as backup. A third system is set up as a backup for one of these systems. The audio and control is all over IP. Per OmniPlayer system a multichannel Axia IP-Audio Livewire+/AES67 driver is installed which makes all audio channels individually available in the AoIP network. This includes GPIO.
Axia Quasar
The Axia Quasar also comes into play at FunX. The Axia Quasar Engine is the center of the new matrix. The engine takes care of twelve transmission line mixes, including cross-fades between advertising and investment. The selection of the investment can be done manually or automatically by means of macros from OmniPlayer. Advertising can also be started from the live studios or through automatic programming. In addition, from each studio a 'multi-item' can be started which can have different content per edition.
So the matrix not only provides the right audio at the desired location, but also the corresponding control.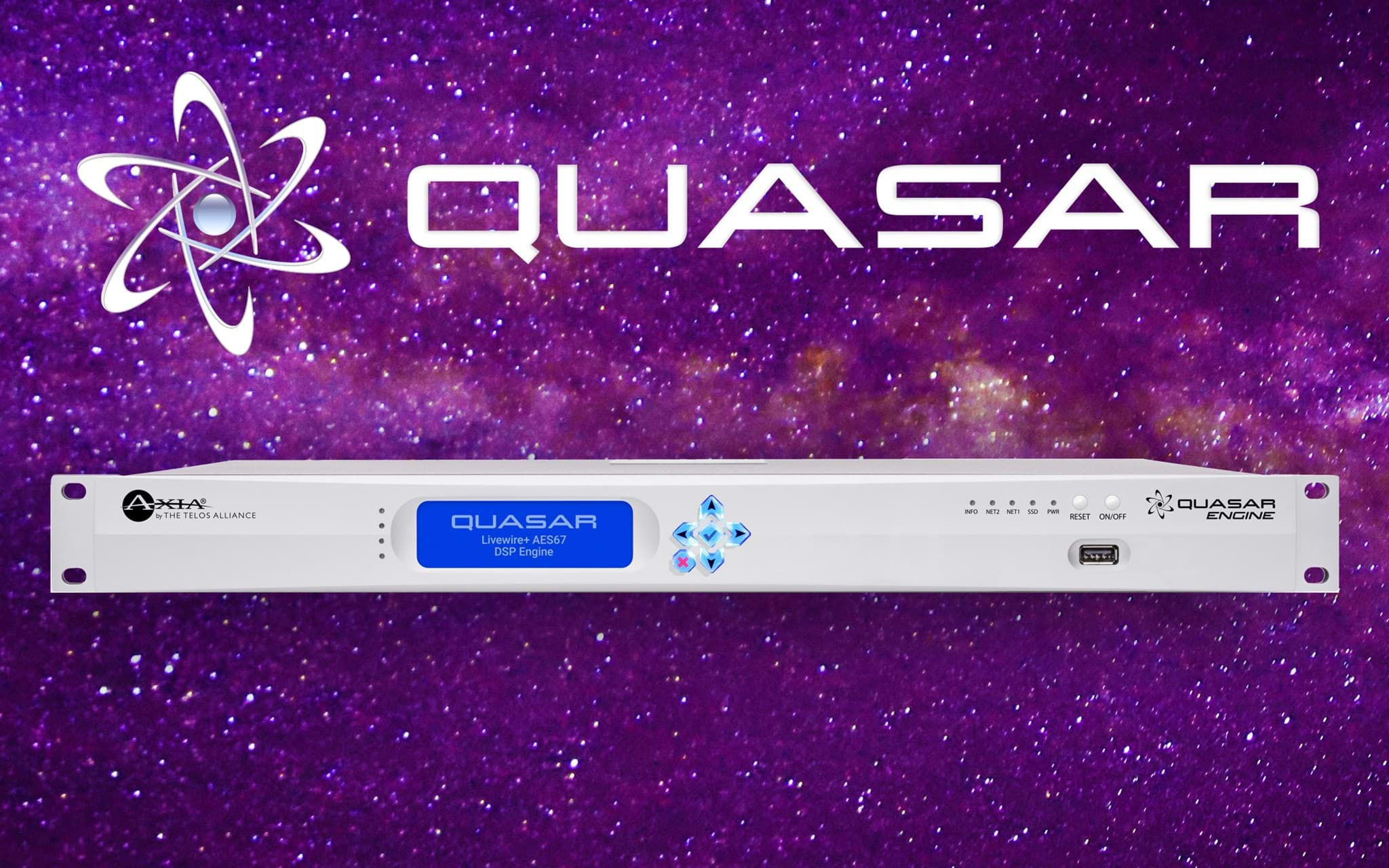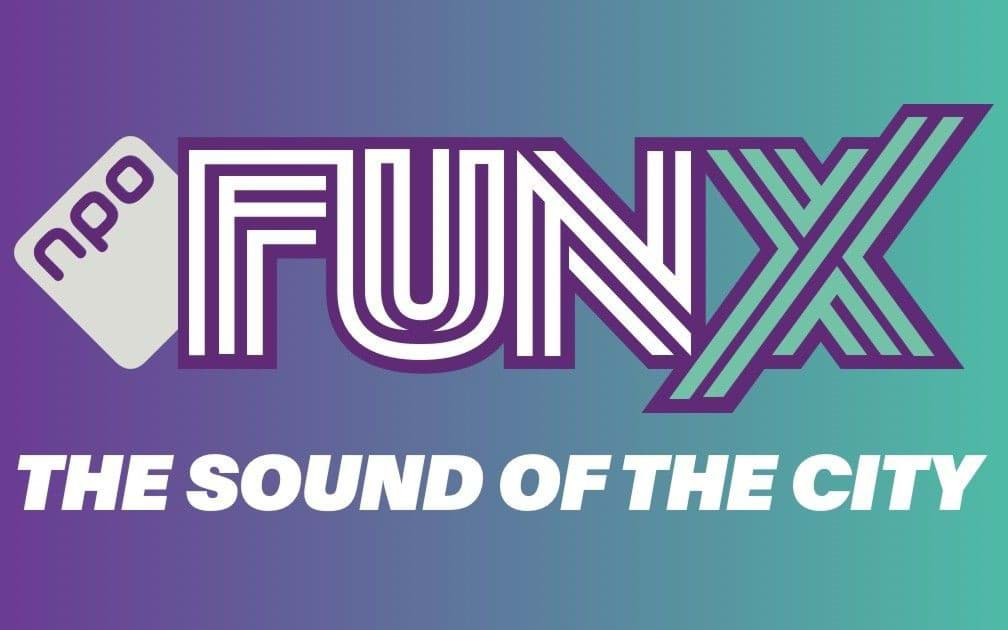 Pathfinder Core PRO
All logic, conditions, audio routing, silence detection and much more is performed by means of Axia Pathfinder Core Pro. For an overview of all transmission lines, an HTML5-user panel has been put together with which the current status can be viewed at a glance. In addition, for each studio (Rotterdam, Amsterdam, Utrecht and The Hague) user panels are displayed in OmniPlayer on which the current on air status of the respective studio can be seen and possibly changed.
It is also possible to make an eavesdrop selection of all broadcast lines in the studio. If this studio is also on air on the selected eavesdropping, it automatically receives an N-1 of the selection. This allows the DJs in the studio to hear locally processed audio on their headphones including the advertising that is centrally controlled.
All audio, from OmniPlayer up to the station, is AoIP. Each signal is available as a Livewire+/AES67 stream in the AoIP network and is routed between cities. The systems that do not yet have an AoIP connection are connected by means of Axia xNodes.
If you want information about this project, please contact us through the form below.